Learn how to perform TARGETED MUSCLE REINNERVATION (TMR).
What is TMR?
TMR is a surgical procedure first conceived by Dr. Todd Kuiken and first performed by Dr. Gregory Dumanian, both of the Northwestern Feinberg School of Medicine.


Read the annals of surgery article here.
Some details:
The course is one day and involves watching a live TMR surgery via video, didactic teaching and hands-on cadaver dissection.
The Course is FREE
To attend, you are required to pay $1100 fee to reserve your seat. Of that, $1000 will be refunded to you by check on the day of your course.
Dates
There are 12 courses offered and they span from January 2019 to September 2019. The goal for each course is "fly in, fly out". Visit the Register page for course listings.
Who May Attend?
This course is designed for board eligible and board certified surgeons. There is a limit of 2 Chief Resident spots available per course.
How Many Courses?
There are 12 courses, each with 20 seats.
Associated Fees
There is a $100 nonrefundable fee for food and refreshments.
Contact
Ms. Alissa Wachman is the coordinator. Feel free to contact her.
Date Changes
Reservations can be made, but at a cost. Contact the program coordinater, Ms. Alissa Wachman, as soon as possible to change your date. Please note: with the first change, you only get half of your refundable sum back ($500). With the second change, you don't get any of your refundable sum back (ie, you get $0 back).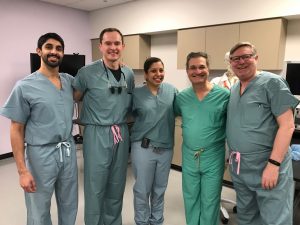 Dear Dr. Dumanian,
Congratulations for a most successful TMR course that was not only educational but met the all goals as well. The format: Observing "live surgery", followed by an informative lecture with Q&A and then Cadaver lab provided a comprehensive understanding of the topic. The "live surgery" afforded a visual understanding of your TMR technique. Your impressive lecture clearly explained the rational for the procedure. I found the Cadaver lab to be the most informative part for me. Observing you demonstrate your approach;  identifying the major nerves and pointing out the nearby motor targets for coaptation, allowed me to consolidate my understanding of the procedures. Repeating the dissection for each of the amputation levels (shoulder, upper arm, forearm, thigh and below knee) helped me understand the major nerves and appropriate targets at each level. The one-day, "fly-in and fly-out" workshop is a very convenient format. The online registration was simple. The responsiveness of your staff, Alissa Wachman in particular, to questions was impressive. Receiving copies of your published articles was helpful for reference purposes. I look forward to sharing the educational value of your TMR course with my colleagues. More importantly, I am keen to offer this procedure to my patients. May this be the first of many courses that will benefit patients and surgeons alike. I wish you every success with future TMR courses.
Bryan J. Michelow, MD., FACS.
Department of Plastic Surgery,
Cleveland Clinic Foundation.